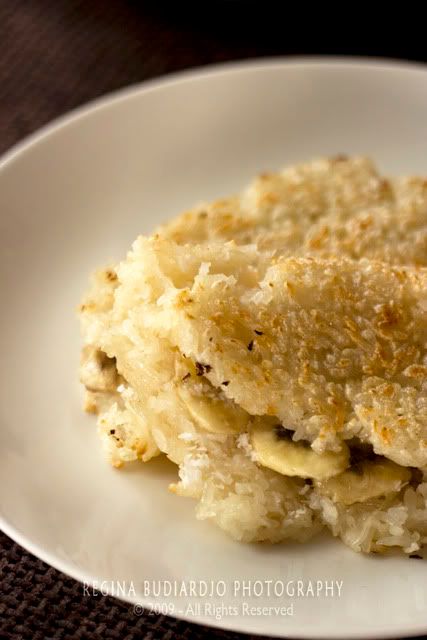 When I first read about the event at Rurie's website, I was thinking what I am going to make. I basically live in Jakarta and most of my live I live outside Indonesia, too. I won't have a clue what food is sort of disappearing from the market.
Luckily, after discussing the idea with my sister and my cousin, a couple of foods were suggested. My cousin suggested either this Ledre Pisang or Sego Gono. My cousin said she couldn't get either of them easily from the food stall as she used to. Yep, I know both dishes. I used to eat them when I was small. The only thing is how to make it? God knows how. At the end, my cousin asked her mom how to make both. I chose to make Ledre Pisang because it's much simpler to make it than the other dish. The recipe belongs to her late grandma.
This type of Ledre Pisang is the wet style. There is another type that is using a kind of crispy egg roll pastry and it's from East Java (correct me if I'm wrong). However, this style is from the area (and nearby towns, of course) where my parents are from, Parakan, Central Java. This Ledre Pisang consists of a blanket of sticky rice filled with slices of banana and shredded coconut.
It's really delicious when it's served warm. The rice crust gives a unique crackling sensation when you eat it. When it's cold, the crust is kind of hard to chew. ;-p
Here is my version of Ledre Pisang, slightly different due to the availability of ingredients in Down Under. I guess the portion size is also plummer than the one I used to have. ;-p
Enjoy!
Ingredients:
- 3/4 cup sticky rice
- 1 pandanus leaf
- hot water
- 2 Tbsp dessicated coconut
- a dash of salt
- vegetable oil
- a dash of sugar (optional)
- 1 ripe banana, sliced
Directions:
- Soak sticky rice overnight. Steam the sticky rice until cooked and add about 2 tablespoons of hot water about 2-3 times, stir/fold and continue steaming. Cook until the sticky rice is soft but still retains the shape. Put aside on a plate.
- Add a little bit of water to the dessicated coconut until the granule is damp and soft. Add a dash of salt and mix.
- Prepare a non stick frying pan and add a little bit of oil. Heat it on medium high heat. Put some of the sticky rice and spead it with an oily spoon. Sprinkle some coconut and a dash of sugar. Arrange slices of banana on one half of the ledre. Once the other side is golden brown, flip the other half to make half circle (just like tacos).
Serve warm.
Cook's note:
- Oil a spoon to spread the sticky rice on the frying pan. Otherwise, you will fight with it and you won't be able to shape it to a circle. No wonder, the commercial one was so oily ;-p
- In Indonesia, we usually use pisang raja goreng (not sure how to translate it in English). The texture is close to lady finger banana.

Regina Budiarjo from Australia
Notes from my kitchen
Ledre Pisang