... No English translation this time. Because I have no idea what "pangek" would translates to. I guess I'll have to ask one of my Padangnese friend. I'll update this post later if I manage to get an answer. Oh, "pisang" means "banana", anyway.
I guess one question you would come up with is "Well, if they are
forgotten
, how are we supposed to remember them?" Fortunately Rurie was considerate enough that she gave us
a lot of ideas
of what we could make.
Originally I had planned to make
satru asam
. It was a childhood delicacy; a candy made from pureed cooked tamarind and icing sugar. My grandma used to make it often when I was little, but now she doesn't anymore. And I don't recall seeing it in shops either in the past 5-7 years.
Then why did I switch to
pangek pisang
instead? Because I've tried making
satru asam
for a couple of times with no luck... at all. My first satru asam was too liquidy and they couldn't harden even after a couple of days. My second attempt was a bit better, but they didn't look pretty at all (I guess that was also because I didn't have the special mould for
satru asam
). My third attempt was good in terms of consistency, but it didn't taste as good as my grandma's. I had no idea why. Maybe she had used some secret ingredients in her recipe.
So... in the end, I gave up trying to make
satru asam
.
Pangek pisang
looks interesting because it is meant to be a dessert, but it is not sweet at all - it's really, really savoury. It consists of bananas cooked in spices and coconut cream, which is then served with steamed glutinuous rice. And as you might expect, I can't find any
pangek pisang
recipe on the internet. Actually
pangek
is quite a popular dish in Padang, but the most popular one is probably
pangek ikan
(fish pangek). Thanks again to Rurie, she gave us a clue from
Bondan Winarno
's
article
which says that
pangek pisang
uses the same spices as
pangek ikan
. So I browsed through numerous
pangek ikan
recipes on the internet and made a mental note about the ingredients that could still taste good with bananas. (I don't believe they use the
exact
same ingredients, by the way.. Wouldn't banana and fish have different natural pairings?)
Pangek Pisang
serves 2
2 medium ripe bananas, sliced into 1/2"-thick slices
1 stalk lemongrass, white part only, sliced
2 bay leaves
2 kaffir lime leaves
1/4 tsp tamarind
100 ml coconut cream
1 tbsp oil
salt, to taste (I used approximately 1/3 tsp)
sugar, to taste (I used approximately 2 tsp)
Spice paste:
2 thai red chili
10 gr ginger, peeled
1/4 tsp turmeric powder
1/4 tsp galangal (laos) powder
2 small cloves garlic
1 shallot
1. In a food processor, puree the spice paste ingredients until they form a thick paste.
2. Heat oil in a medium nonstick frying pan on medium heat.
3. Stir-fry the spice paste until fragrant. Add the other ingredients except bananas. Bring to boil.
4. Reduce heat to low. Add the sliced bananas and stir well to coat with the sauce. Cook until the bananas soften a bit.
5. Remove from heat. Serve immediately with steamed glutinuous rice.
To be honest, I don't know what to say about this dish. It is delicious, but... I still can't accept the fact that it is a dessert. I always define dessert as "something sweet or refreshing to cleanse the palate". Okay, you can argue by serving me a slice of spice cake, but even a spice cake is not that spicy. It just has a
hint
of spice. To me,
pangek pisang
belongs to the snack/appetizer category.
Note to self: next time I go to a Padangnese restaurant, I'll ask if they have
pangek pisang
. Who knows the original one might be as dessert-y as I expect?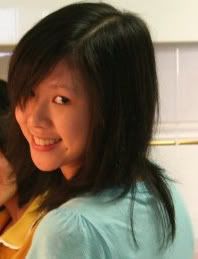 Jenny from Melbourne, Australia
JKitchen.Log
Pangek Pisang