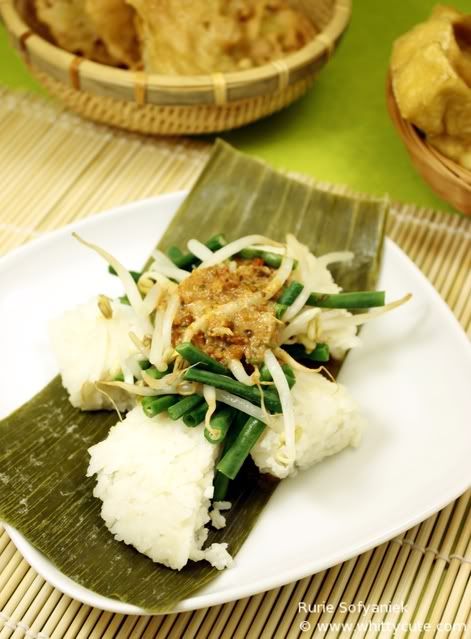 Ok at first glance you would think this is just the same like pecel and therefore is not allowed to participate in this event. But let me tell you that it is different indeed. Usually we eat pecel with rice but in this dish you eat eat it with lontong (rice cake) and this lontong is also different because when you cook the rice cake you also added some coconut milk.
When I was small 15 years ago I remember whenever I went to my mother's hometown in Blitar, my aunt would always take me to punten seller. It was just a humble seller, she didn't even own a warung (a small food stall). People would just queuing in her kitchen, waiting for her to finish her cooking. I remember her humble kitchen with wooden fire, but somewhat it made the food tasted more delicious. And what was weird that her odd opening hours, she would cook during the day (or late in the evening) then she would sell her cooking quiet late at night. So it was rather late supper than dinner, because my aunt always took me there after 9pm and when I asked her why couldn't we go at 6pm, she said that the food wouldn't be ready then. And what surprised me so much was the price. For a portion you just needed to pay Rp. 100,00 - Rp. 200,00

Even then there were not many seller of this dish, I only knew her. Now, that humble lady had died already and I heard from my mother that there are some other sellers at the market selling this dish but now whenever I wanted to eat this, I always ask my aunt to make it for me.
For 2-4 persons
Ingredients:
For the coconut rice cake:
- 2 cups rice
- 3 cups coconut milk
- Pinch of salt
- Cook rice with the coconut milk and salt until all coconut milk has evaporated.
- Steam the rice until the rice is done (approx 20 minutes)
- C
over a bowl with plastic and add the rice immediately when it's still piping hot.
- Cover a pestle with plastic and pound the rice until it's relatively smooth.
-Press the rice back to the bowl so it would make the shape of the bowl.
- Let it cool down before you can cut it.
For the vegetable:
Basically you can use any kinds of vegetable that you like, here what I used:

- 200gr long beans
- 200gr bean sprouts
- Blanched the vegetables in boiled water, don't over cooked them.
For the pecel sauce:
- 250gr fried peanut, grind until smooth
- 3 garlic

- 1cm lesser galangal

- 1 red chili

- 2 bird's eye chili (less or more depending on your taste buds)
- 50gr Indonesian palm sugar
- 2 kaffir lime leaves, minced
- ½ tsp salt
- Combine all ingredients in a pestle and mortar or food processor until smooth.
- When you want to serve it, this the sauce with hot water.
- Serve the coconut rice cake with the vegetables and pecel sauce. If you like you can also serve it with fried tempe or tofu and rempeyek kacang.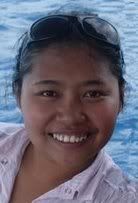 Example entry from me
Rurie Sofyaniek from Gouda, Netherlands
Just a thought
Pecel Punten